AfterShokz
Trekz Air Wireless Bone-Conduction Headphones Slate Grey
MPN:

AS650SG

UPC:

855121007311
This is the best online price
Save at least 34% off MSRP
Brand New Product
Availability
Avg delivery to you:
2-8 days
Shipping Methods:
Free Shipping
Global supply chains have been impacted by worldwide response to COVID-19. PriceWaiter works with our sellers and suppliers to ensure timely, safe delivery. Our priority is to provide you with transparent information regarding the shipment status of your purchase. If there is any delay beyond your product's estimated shipping window we'll be sure to let you know.
Shop at your price
Offer what you want to pay
Brand new from trusted sellers
Score hot deals at negotiated low prices
30-day returns
Love it or send it back hassle-free
Bone-Conduction Technology
Bluetooth connectivity
20% lighter than its counterpart
Organic design delivers increased comfort
Wraparound titanium design provides a flexible fit for all-day comfort and stability
OpenFit design ensures maximum situational awareness and comfort during long-term wear
PremiumPitch+ delivers dynamic crystal clear sound
LeakSlayer technology significantly reduces natural sound leakage
IP55 certified to repel sweat dust and moisture
6 hours of music and calls with complete inline controls
EQ presets boost bass and reduce vibration on the go
Dual noise canceling microphones exclude surrounding noise effectively enhancing speech
Audrey Says voice prompts guide users through power pair play and talk

Lightweight and comfortable Trekz Air open-ear wireless bone-conduction headphones are the newest alternative to traditional in-ear sport headphones and earbuds because they let you keep your ears open so you can hear surrounding sounds. The Trekz Air feature an organic open ear design that that is 20% lighter than previous Trekz and delivers increased comfort for all-day wear. LeakSlayer technology significantly reduces natural sound leakage and with an IP55 certification sweat dust and moisture are repelled so you can get a workout in without worrying about something happening.

Bone Conduction is a natural part of the hearing process--sound travels through our eardrums and bones simultaneously. We've taken the concept to the next level through development of a suite of proprietary audio technologies and design Patents. The result is headphones that deliver unrivaled situational awareness and comfort.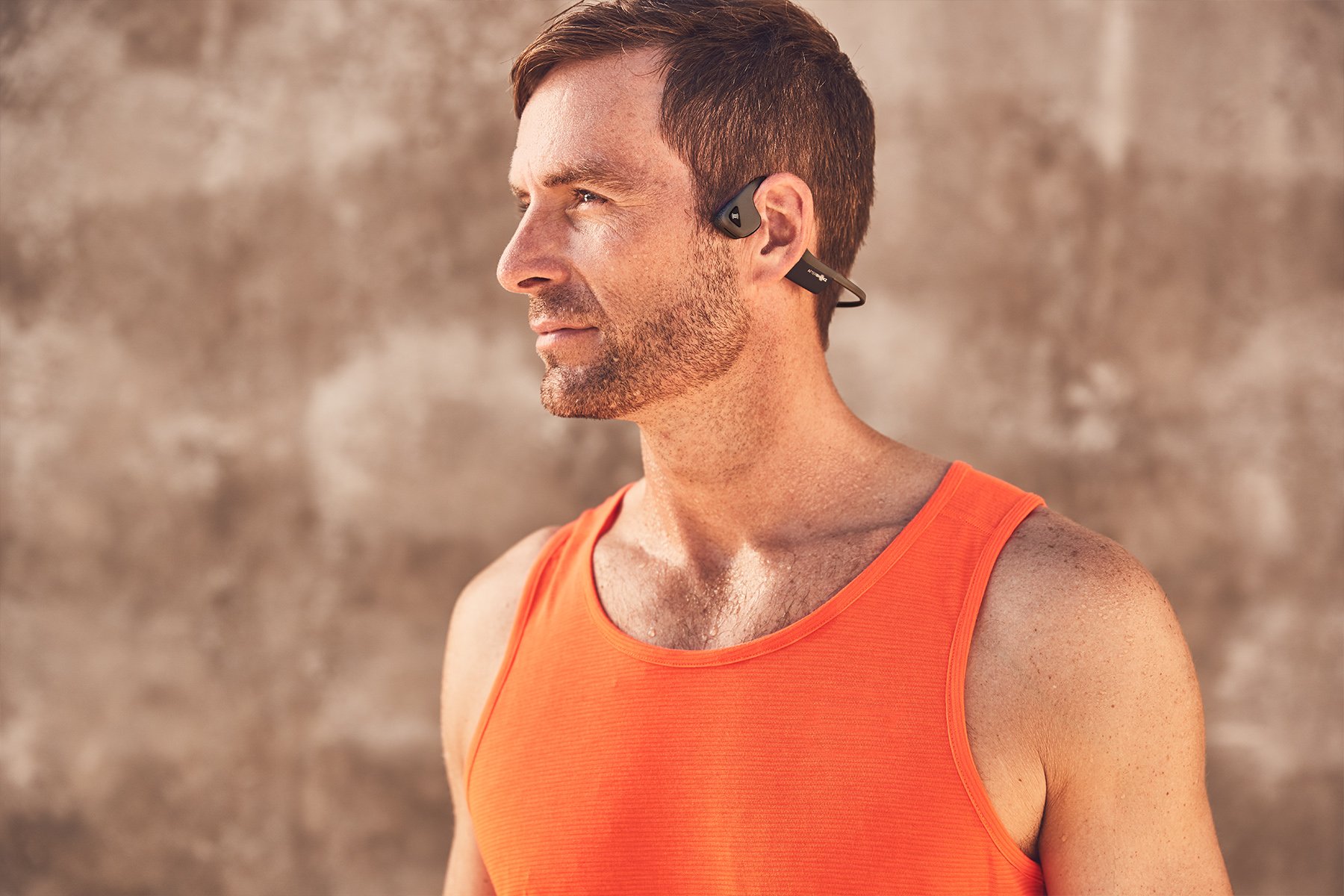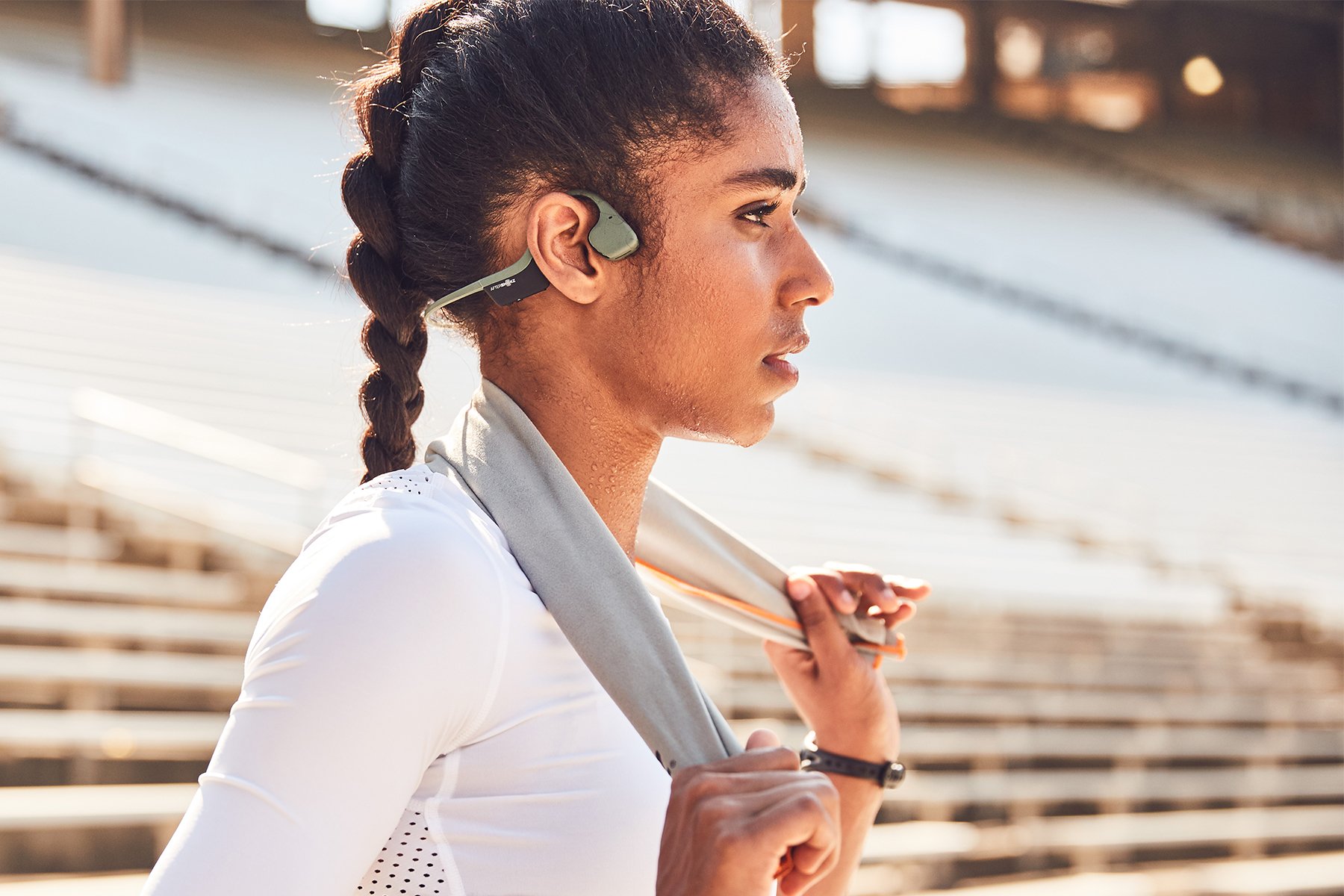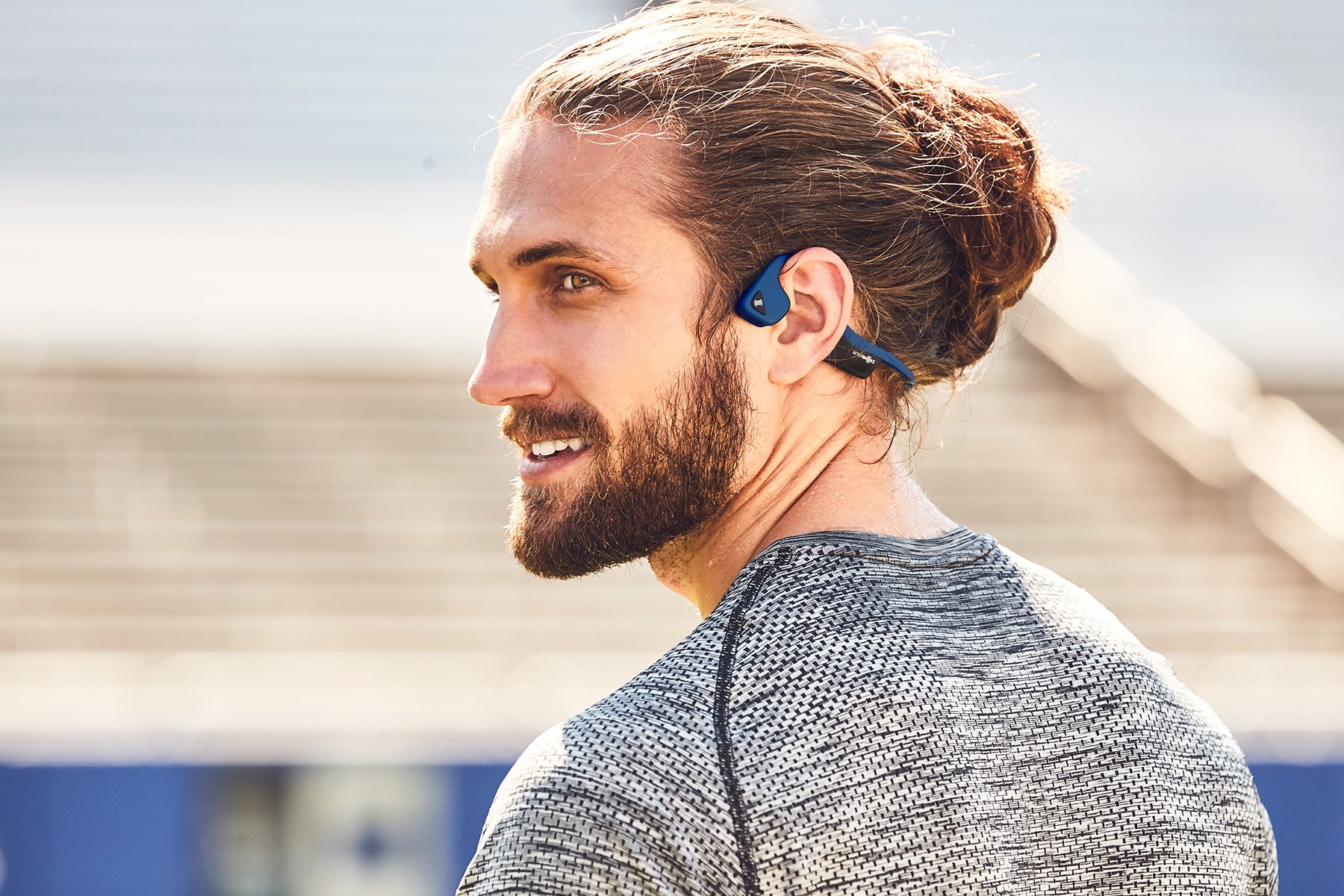 Trekz Air Wireless Bone-Conduction Headphones
Carrying Case
Micro USB Charger
Ear Plugs
User Guide