Garmin
vivofit 4 Activity Tracker
UPC:

753759178918
Save at least 11% off MSRP
Brand New Product
The Garmin Vivofit 4 features an always-on customizable color display that is visible even in sunlight and a battery life of over one year giving you the freedom to keep up with your on-the-go lifestyle without having to stop and recharge.
Availability
Avg delivery to you:
3-6 days
Shipping Methods:
Free Shipping
Global supply chains have been impacted by worldwide response to COVID-19. PriceWaiter works with our sellers and suppliers to ensure timely, safe delivery. Our priority is to provide you with transparent information regarding the shipment status of your purchase. If there is any delay beyond your product's estimated shipping window we'll be sure to let you know.
Shop at your price
Offer what you want to pay
Brand new from trusted sellers
Score hot deals at negotiated low prices
30-day returns
Love it or send it back hassle-free
Activity tracking follows your daily movements including steps distance and calories burned and the waterproof design means it's safe to wear while swimming and showering. The vvofit 4 learns your current activity level giving you personalized daily step goals that gradually progress as well as inactivity alerts to make sure you keep moving. Garmin Connect syncs periodically allowing you to stay on top of your progress and providing you with a community that allows you to compete in challenges and encourage other's successes.
24/7 Wearable
The vvofit 4 activity tracker follows your progress 24/7 and lets you ditch the charging cord thanks to its 1+ year battery life. Its also safe for the pool or the shower and its always-on color display is bright and easy to see even in the sunlight. Let your personality shine through by customizing the screen with color themes watch faces and text phrases or by swapping out the band for a different one. Accessory bands are available in various colors and styles.
Convenience on Your Wrist
With vvofit 4 were bringing you several new tools designed to make life a little more convenient. Use the weather widget for a quick illustrated look at what the day is going to bring. Set an alarm in the app that will go off on your device or even set a countdown timer right from your wrist to remind you when its time to turn off the oven. Misplaced your phone? vvofit 4 can help you with that too.
Get Moving the Easy Way
No need to manually start and stop your activity timerMove IQ has you covered. It can automatically capture and classify different activities such as walking running biking swimming and using an elliptical. For walks and runs it can even start an activity timer automatically. Review the captured data later on Garmin Connect.
Personalized Activity Tracking Plus Motivation
vvofit 4 inspires you to get up and move. In addition to tracking steps distance calories burned and sleep it also tracks periods of inactivity. A colored move bar fills up to alert you if youve been stationary for too long. Reset it by walking for a couple of minutes. vvofit 4 even learns your current activity level then assigns an attainable daily step goal. As you meet your milestones it will adjust your goal for the next day gradually nudging you toward a healthier lifestyle.
Share and Compete
Throughout your day vvofit 4 periodically syncs to Garmin Connect2. The Garmin Connect app makes it easier than ever to beat yesterday. Bold colorful activity cards provide all your statistics at a glance. Scroll down to easily compare todays totals to past results or tap in for more detailed information. Activities and other health measurements recorded by your device are presented in vivid detail. And the data you see is customized just for you and the way you move without all the filler.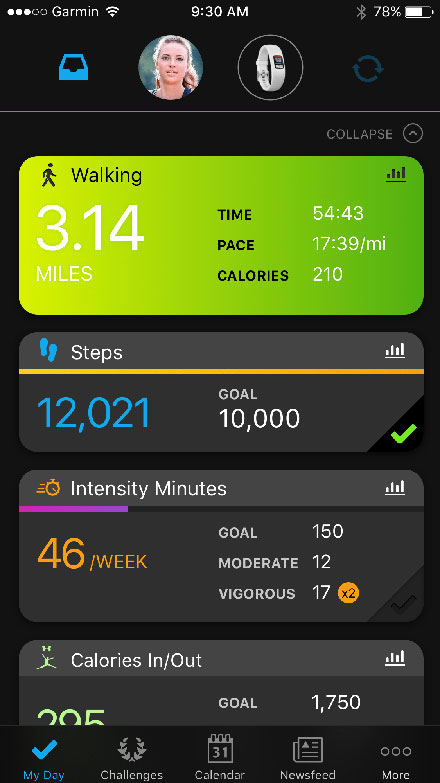 Step Challenges with Your Kids
Use the Toe-to-Toe feature to challenge your kids to a step competition. Your vvofit 4 activity tracker can wirelessly connect to your childs nearby vvofit jr. 2or even another vvofit 4 to kick off an instant timed step competition. It's all controlled right from the wrist and once the competition is over you'll both see the total number of steps during the one-on-one challenge and find out who triumphed.