Microsoft
Xbox One S Console with NBA 2K19 + Call of Duty: Black Ops 4
Guaranteed Brand New
From an Authorized Retailer
Shop at your price
Offer what you want to pay
Brand new from trusted sellers
Score hot deals at negotiated low prices
30-day returns
Love it or send it back hassle-free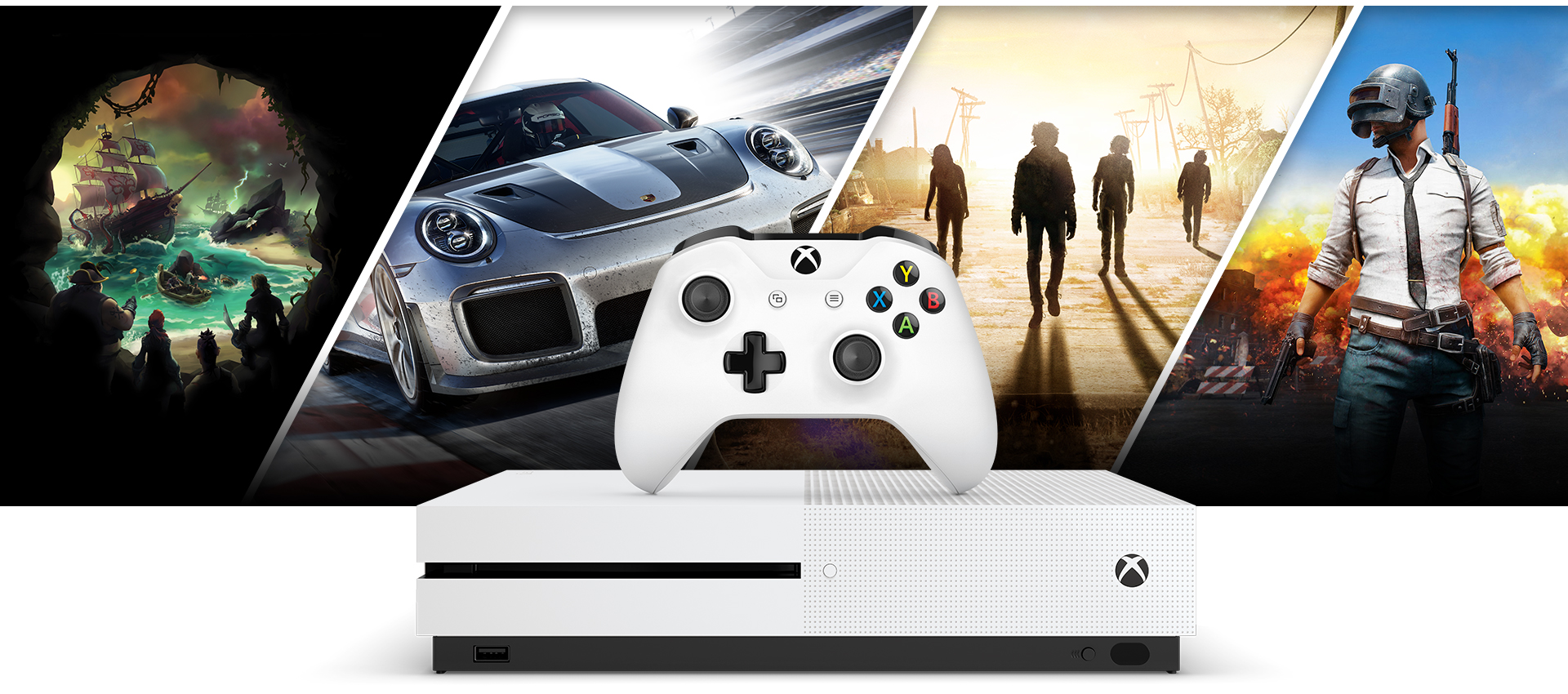 The only consoles designed to play the best games of the past present and future
Play over 1300 great games from the biggest blockbusters and most popular franchises to three generations of favorites you can play again or experience for the first time.
The best in 4K entertainment
4K Streaming
Stream 4K Ultra HD video on Netflix Amazon Hulu and more.
4K Blu-ray
Watch movies in stunning detail with built-in 4K Ultra HD Blu-rayTM.
Spatial Audio
Bring your games and movies to life with immersive audio through Dolby Atmos and DTS: X.
Endless entertainment apps
Enjoy your favorite apps like YouTube Spotify HBO NOW ESPN and many more.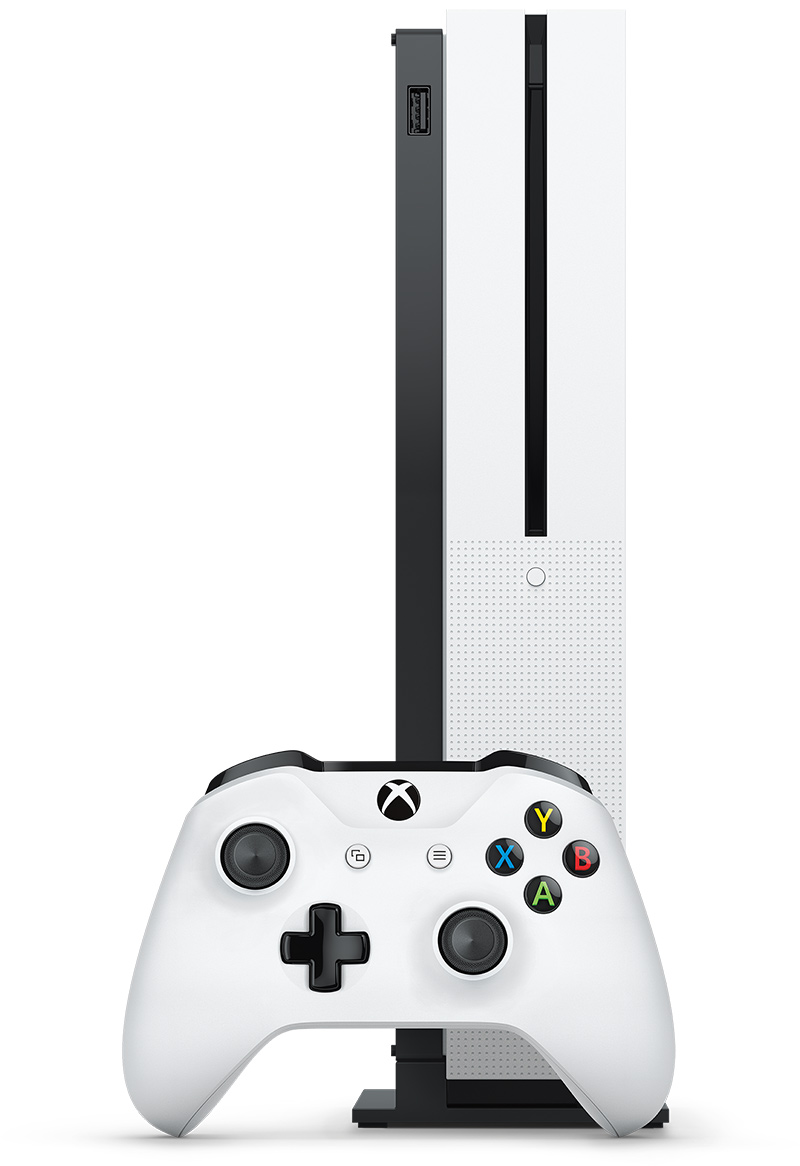 Bring your games and movies to life
Whether youre playing games watching your favorite shows or streaming gameplay Xbox One S delivers brilliant graphics with HDR technology premium audio and fast reliable online gaming with friends.
High Dynamic Range

Brilliant graphics with High Dynamic Range

4K Resolution

Ultra HD Blu-ray and video streaming

Spatial Audio

Premium Dolby Atmos and DTS:X audio
The benefits of High Dynamic Range
Experience richer more luminous colors in games like Gears of War 4 and Forza Horizon 3. With a higher contrast ratio between lights and darks High Dynamic Range technology brings out the true visual depth of your games.
NBA 2K19
They Will Know Your Name
NBA 2K celebrates 20 years of redefining what sports gaming can be from best in class graphics & gameplay to groundbreaking game modes and an immersive open-world Neighborhood. NBA 2K19 continues to push limits as it brings gaming one step closer to real-life basketball excitement and culture.
Take control with Takeover
Harness your MyPLAYERs full basketball potential with the new Takeover feature. Unlock special moves and abilities never before seen on the court or activate Team Takeover and unleash the power of your full squad.
Run the Neighborhood
You wont want to miss a single day in the updated Neighborhood. Make a name for yourself on the court at the Under Armour Cages and during live events on the block. Ball until dawn with new day to night transitions walk on at the Jordan Rec Center or get the old Crew back together for exciting 3 on 3 streetball action.
MyTEAM
Create your very first MyPLAYER card and ball with LeBron Kobe and the rest of your collection in a variety of competitive modes. Introducing the new Unlimited mode allowing you to pick any five cards from your deck without restrictions and battle against other players online.
MyCAREER
From neighborhood legend to global phenomenon. The original career story mode returns with an all-new immersive narrative charting your journey from China to the G League and eventually the NBA. Featuring an all-star cast endorsements tied to your popularity and new team chemistry elements that allow you to dominate the hardwood.
Call of Duty: Black Ops 4
Black Ops is back!
Featuring gritty grounded fluid Multiplayer combat the biggest Zombies offering ever with three full undead adventures at launch and Blackout where the universe of Black Ops comes to life in one massive battle royale experience.
Tactical Grounded Multiplayer
Call of Duty: Black Ops 4 Multiplayer raises the bar delivering the most thrilling experience yet with a focus on tactical grounded gameplay and player choice. The game offers a new level of online action across a variety of new weaponry maps and modes. For the first time Multiplayer serves as the center of the game's narrative as players explore each Specialist's role and unique playstyles. With the return of the Pick 10 Create-a-Class system and a new Gear category gameplay becomes more customizable than ever giving players choice on how to equip their Specialist. Combined with the ability to unlock devastating Scorestreaks players will have the opportunity to be powerful on their own or unstoppable as a team.
The Biggest Call of Duty Zombies Ever
Call of Duty: Black Ops 4 delivers the biggest Day 1 Zombies offering ever with three full experiences at launch: IX Voyage of Despair and Blood of the Dead. With an exciting new adventure and a brand-new cast of characters Call of Duty: Black Ops 4's Zombies will feature the deep gameplay and easter eggs that its rabid community of fans have come to expect.
A Celebration of the Black Ops Experience
In Blackout Black Ops comes to life in a massive battle royale experience that features Black Ops signature combat and land sea and air vehicles in the biggest map in Call of Duty history. Bringing together the worlds of Black Ops play as your favorite characters and battle through iconic settings from the Black Ops universe in an all-out survival and elimination experience.